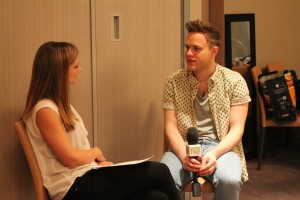 I did an interview with British pop-star Olly Murs last week for work. Both cheeky and charming, this guy has a story of success, with the gist of it being that he tried out for UK's The X Factor three times before making it onto the show (where he went all the way to the top 2 before losing to this guy).While he's still trying to break into the North American music scene, in the UK he can't go many place without being mauled by girls with zombie-like determination.
But before all that, Olly faced the ultimate rejection–and in-your-face laughter from friends–and kept going back for more, convinced that it was just something he had to do.
They say that the third time's a charm. You know–"they." The mysterious group of people that doles out tidbits of life's truths, just in time to stop yourself from giving up and throwing a surprise pity party for one.
So, I am hoping that the same will be true for me. I have tried to keep this blog thing alive, not once, but twice, and failed. There was my original blog, created through mild coercion by well-meaning teachers in college, cracking the proverbial whip as they get you ready for the "real world." Then came the cupcake blog, when I was convinced that a solid theme would keep me on track. But baking metaphors, while beautiful in their time and place, can only stretch so far (also, all that sugary chemistry is not good for the waistline).
But the number 3 is supposed to be magical and/or divine: 3 meals a day, 3 Little Pigs, 3rd rock from the sun, 3 primary colours…It goes on and on. Sometimes, I'm not even sure why we try so hard to make any of the other numbers work, when clearly it's that third flashy one that's the true golden girl (Goldilocks and the Three Bears, anyone?).
Ah yes, but there are all those wonderful and invaluable things I've learned along the way. Experiences I wouldn't trade for anything (well…maybe life could keep some of them…).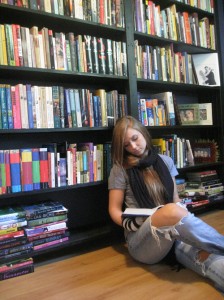 And so, here I am, at Blog #3. I don't have anyone to keep track of my progress and spur me on with promises of big, fat A's upon the completion of each post. Nor do I have a theme, beyond that of my own experiences, to steer me in the right direction with sugary goodness.
Yet, at heart, I feel like a writer. Beyond all the work emails and administration, celebrity interviews and concerts, champagne-driven events and parties, I am still most comfortable in front a simple screen and some familiar keys under my fingers.
Apart from my novel-writing attempts–which I am sure will be awarded much spotlight during the scintillating/grueling process–and my professional exploits–which nudge me uncharacteristically towards the light and cheery end of the literary spectrum–this will have to serve as that place where my deepest "writer" thoughts (I just love sounding so lofty) can manifest: the good, the bad and the ugly.
Bear with me. This number 3 wagon ride may still be a bumpy one.